News from Piwigo mobile apps for Android and iOS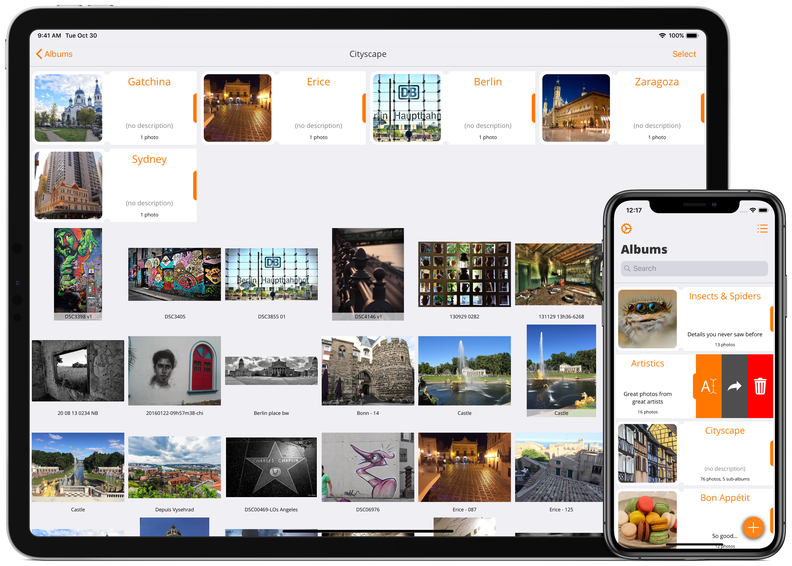 It has been a while since we have given news about our Piwigo mobile apps : new features, upcoming projects for Android and iOS… Let's take a tour in this blog post!
In 2011, we wrote a blog post about the release of Piwigo applications for iPhone (iOS) and Android. Some time has passed, and we thought we would update our users on things that have happened since then, and things that are going to happen with our mobile apps.
Piwigo mobile app for iPhone and iPad / iOS
The Piwigo application for iOS has evolved well since its release in 2011, thanks to Eddy, who has been responsible for maintaining and making sure the app evolves. .
You can download the application on the App Store by clicking this button :

We are very proud of this app, it is available in 11 languages, and our app is unanimously acclaimed by users with an average rating of 4.7/5 on the App Store!
But what can be done with this application?
First of all, you should know that it is compatible with iPhone, iPad and iPod, and respects your privacy. We tell you everything in our privacy policy.
These are the main features available:
Access all your albums from your mobile or tablet
One of the first advantages of this application is that it allows you to access your photo library everywhere you go (a data / wifi connection is required). You can browse from one album to another or search for your photos.
The application design is independent of the theme chosen for your web gallery, so don't be surprised if it doesn't look like your online gallery. Apart from that, you can find all of your Piwigo on your mobile: albums, sub-albums, photos, videos (if your Piwigo server allows it), tags…
The application also allows you to search for photos, and to access to the most viewed, highest rated, most recent and tagged photos.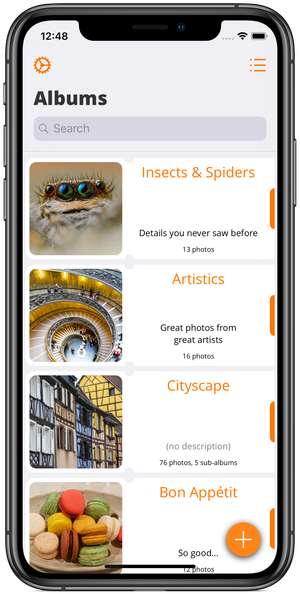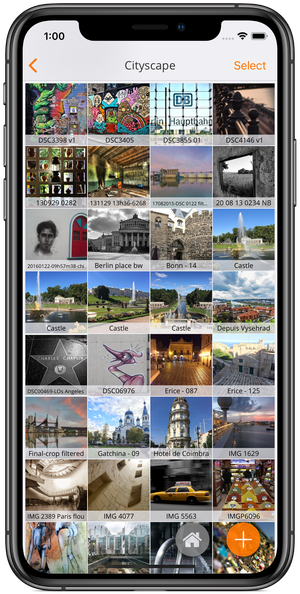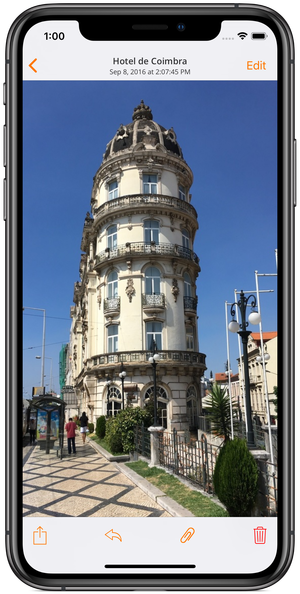 Organize your photos
You can use the app to organize your photo library: move albums, move or copy photos from one album to another, rename or delete your albums, create sub-albums, edit your photos metadata (name, description, tags…), choose an album thumbnail…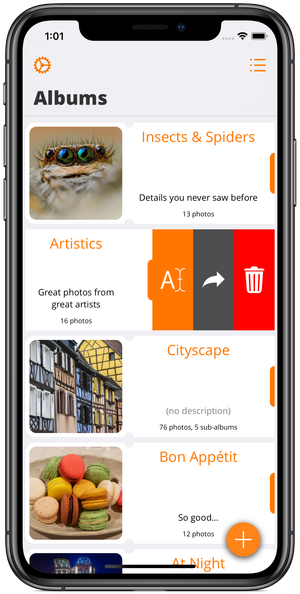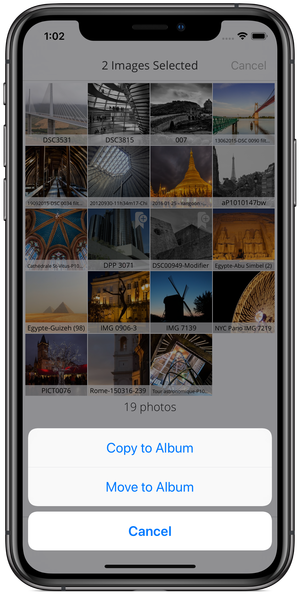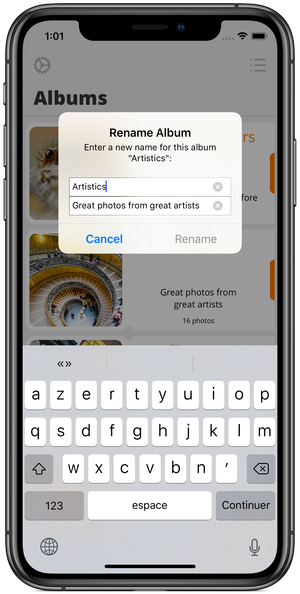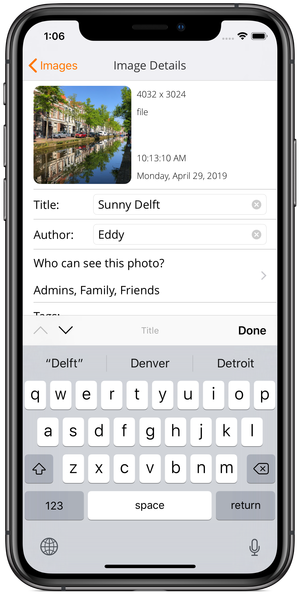 Import your mobile phone photos to your Piwigo
From the app, you can easily import photos and videos from your mobile phone to new or existing albums. About videos, the same limits apply as on your Piwigo web gallery: you can import videos if you host your Piwigo yourself, or if you have chosen a Piwigo.com enterprise account.
The app has access to the albums already created in your "Photos" application, but also to all the "smart" albums created by iOS: photos by date, by location, shared with iCloud,… With one click, you can select all the photos that have been taken on the same day; you can also select them one by one or select a series of photos by sliding your finger from right to left (or from left to right) then down…..
The import interface allows you, on the fly, to rename photos, enter a description, tags, and set their visibility (public or private). The app informs you of the progress of the upload process and you can go back to select other photos to import, or browse your library during the upload.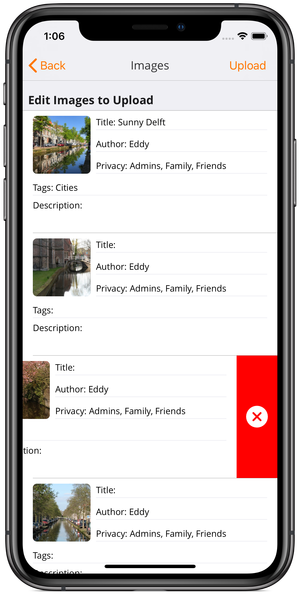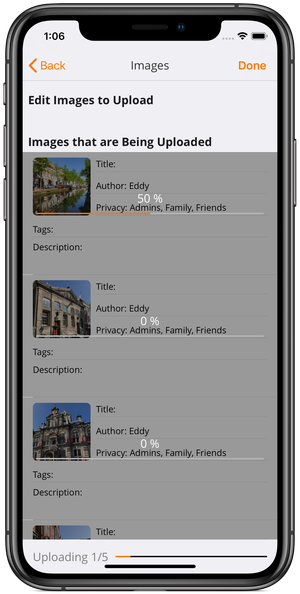 Share your photos
AirDrop, email, SMS, or social networks…. From the Piwigo app, it is super easy to share your photos! You can also print them, copy them to the clipboard, assign them to contacts, use them as a wallpaper, or send them to your Apple Watch.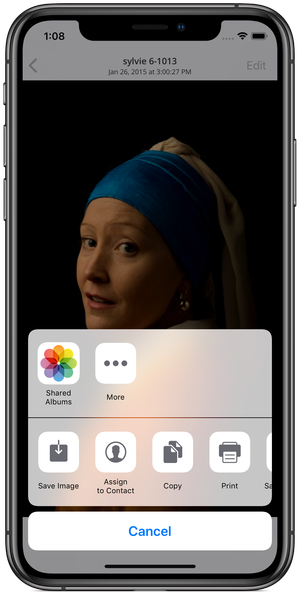 Application settings
Many settings allow you to customize your experience of the app.
For instance, you can switch the application to dark mode, compress the photos before sending them to the server, set up the resolution level for displaying thumbnails, choose to share or not the metadata of the photos… A very useful option is the automatic deletion of the photos after import into your Piwigo.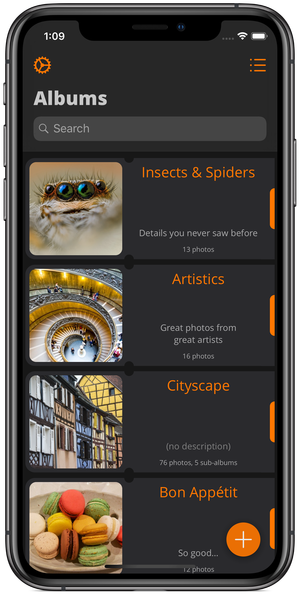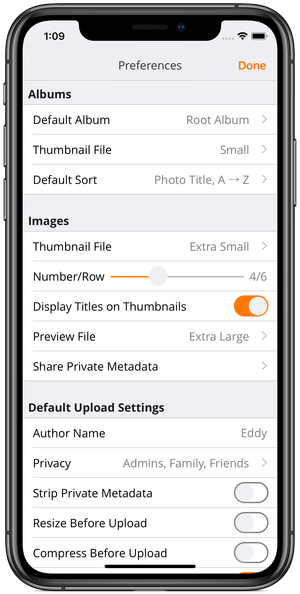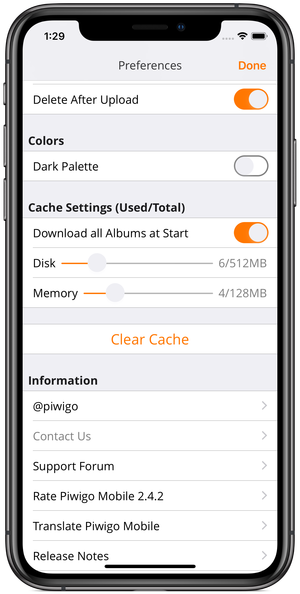 Prospects for the future
The iOS app evolves regularly and you will discover in the coming months the new import management feature, that will be done in the background.
The app will also allow you to manage your favorite photos, users and private albums. You will be able to note the photos directly on your smartphone. And for those of you who use several Piwigo, the application will offer account management.
Piwigo mobile app for Android
For now, two Piwigo apps are available on Google Play, the application store dedicated to Android.
The "official" Piwigo app for Android
The official Piwigo application for Android is available by clicking this button:

You will notice that it is displayed as in "Early Access".
What does that mean?
That means that the development of the app it is not really over yet. If you download it, you might experience some bugs. Indeed, this application has not been updated enough, and is not at all as complete as the Piwigo application for iOS. It just allows you to access your albums and upload photos to your Piwigo.
The good news?
Since July, we have recruited Valentin who is currently working on a brand new version of Piwigo Android application! Our goal: to offer you the same features on Android as on iOS. So stay tuned, we will keep you informed!
Exclusively, here are some images of the future Piwigo application for Android: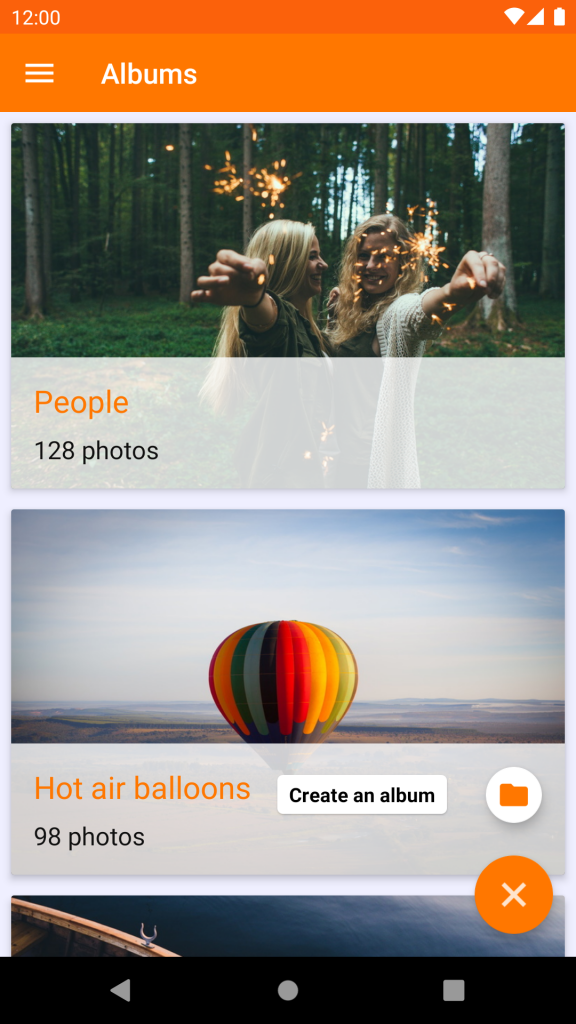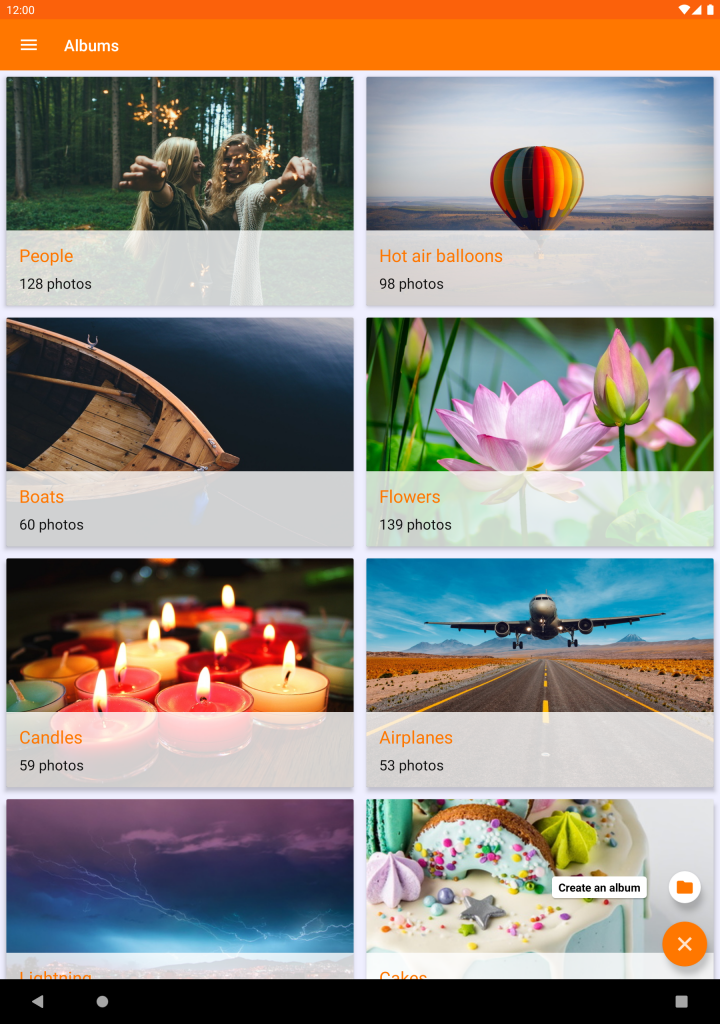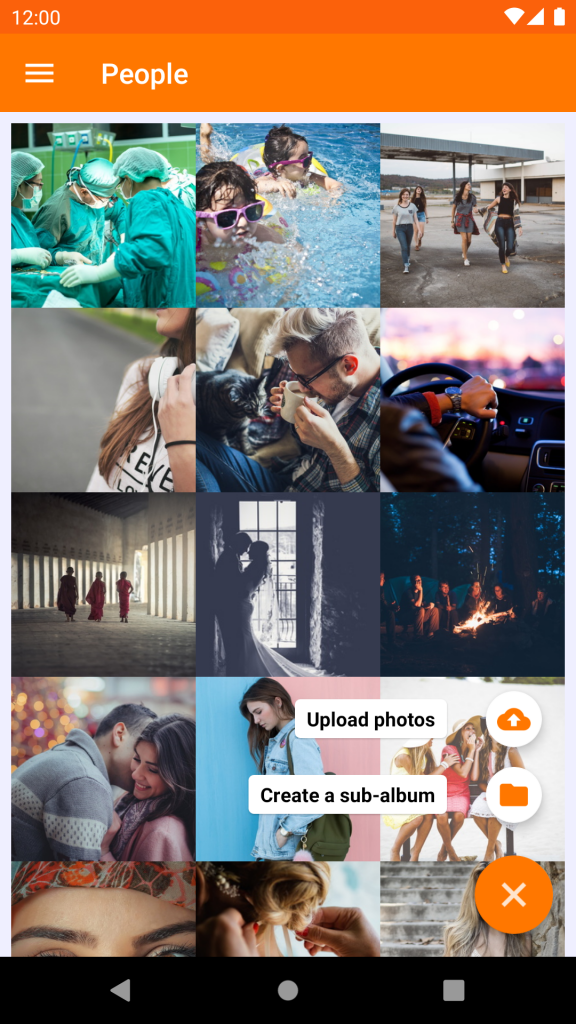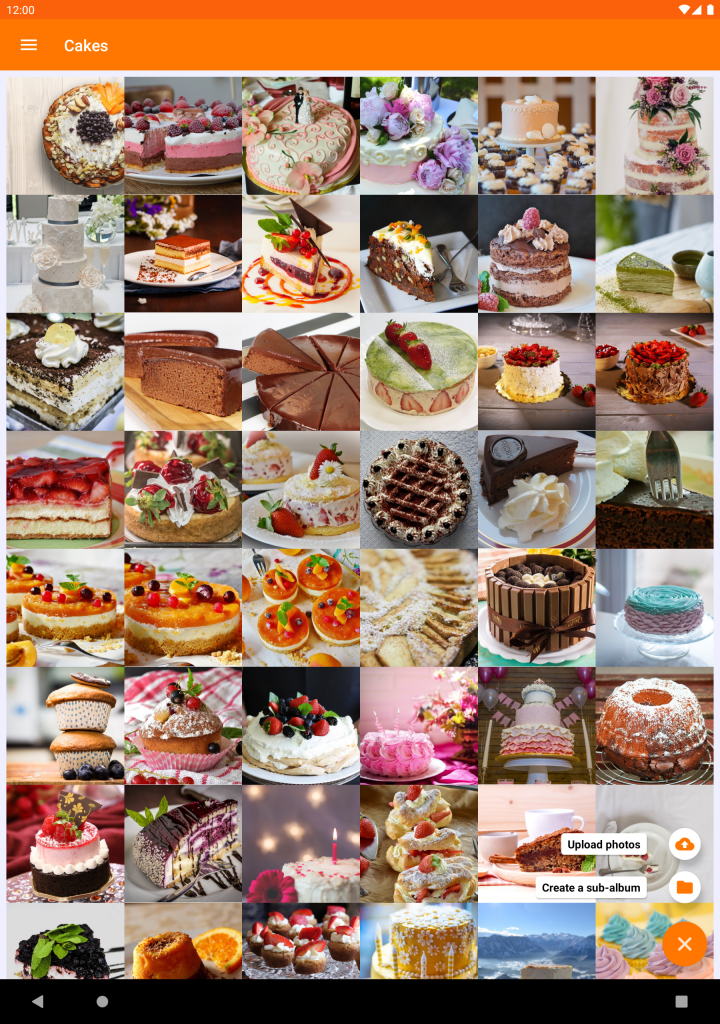 The "unofficial" Piwigo application
There is also an "unofficial" Piwigo application for Android available on Google Play under the name Piwigo Client Free.
It seems important for us to clarify this point: even if this application is called Piwigo, it is an individual initiative, it was developed without Piwigos consultation (to be honest, we were not asked for our opinion). This was made possible because Piwigo is an open application, the API is available and well documented, and we usually support initiatives that aim to enhance the product.
But please note that this app comes with a lot of advertising, which is not in line with Piwigo's values. Futhermore we do not know what personal data is collected by this "unofficial" application and who has access to it. If you choose to download it, please be aware that Piwigo has nothing to do with this application.
What about you ? Have you ever used one of the Piwigo mobile applications?