New pricing for Piwigo.com: what does it change for you?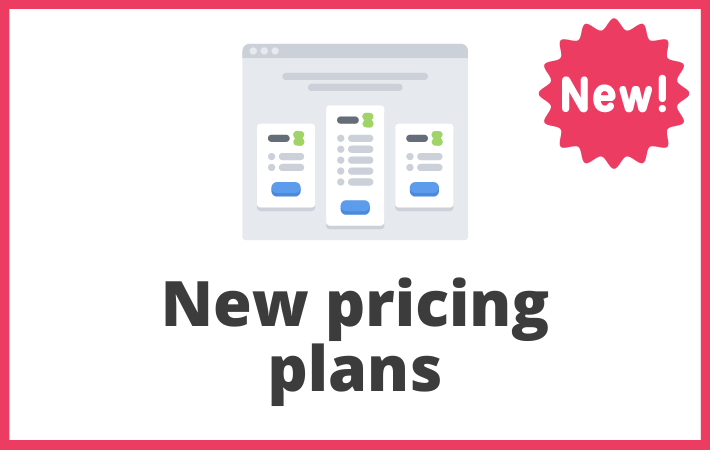 As we announced in the last few months, we have implemented a brand new pricing scheme for Piwigo subscriptions. If you are already a Piwigo customer, you might be wondering what this means for you? In this article, we'll review the new pricing plans, the impact for existing customers, and why we made this change.
Table of contents
---
Importance notice
If you are an existing Piwigo customer, you are not forced to switch on the new pricing plans. You'll be able to go on with your current offer, with no limitations further than the ones you already have.
Why did we change our pricing?
It took months of thought and experimentation to develop our new pricing plans. But first of all, why this change?
Our pricing grid was previously divided into two categories: an "individual" plan, for individual customers, and "enterprise" plans.
There were several issues with these plans:
Our Individual plan gave access to unlimited storage space, for a very low cost. This is not sustainable. Indeed, storage space is expensive, consumes energy. It is neither fair nor profitable to offer unlimited storage space, because the resources are not.
In return, this Individual plan did not provide access to video hosting, which many of our individual customers were missing.
The pricing of our Enterprise plans was based on one factor: the available storage space. But storage space is not the only thing that matters when it comes to the value Piwigo brings to our Enterprise customers. Nor is it the only cost factor for Piwigo. Our costs also depend on the number of users, albums, frequency of support requests…
It is also important to understand that since the creation of Piwigo.com commercial offers, our costs have increased to meet the demands of our customers and to continuously improve the product. Support, design, development, communication and marketing: our team has become more professional. We still want Piwigo to be an affordable product. But we are also a company that has to face its expenses and set up a sustainable development model.
It is for these reasons that we have launched a project to redesign our pricing model.
New piwigo.com princing plans : how does it works?
So we took the time to think about it, and we analyzed customer usage, to propose a new price list. This grid is divided into 5 offers, each one being calibrated as well as possible to meet the needs of our various categories of customers:
A Personal plan for private individuals
A Personal Pro plan for independent photographers and freelancers
A Team plan for small teams
An Enterprise plan for medium-sized companies and organizations
A VIP plan, for the largest companies and organizations with the most demanding needs.
Each offer has several limitations (except for the VIP offer):
number of administrators
number of files
number of albums
storage space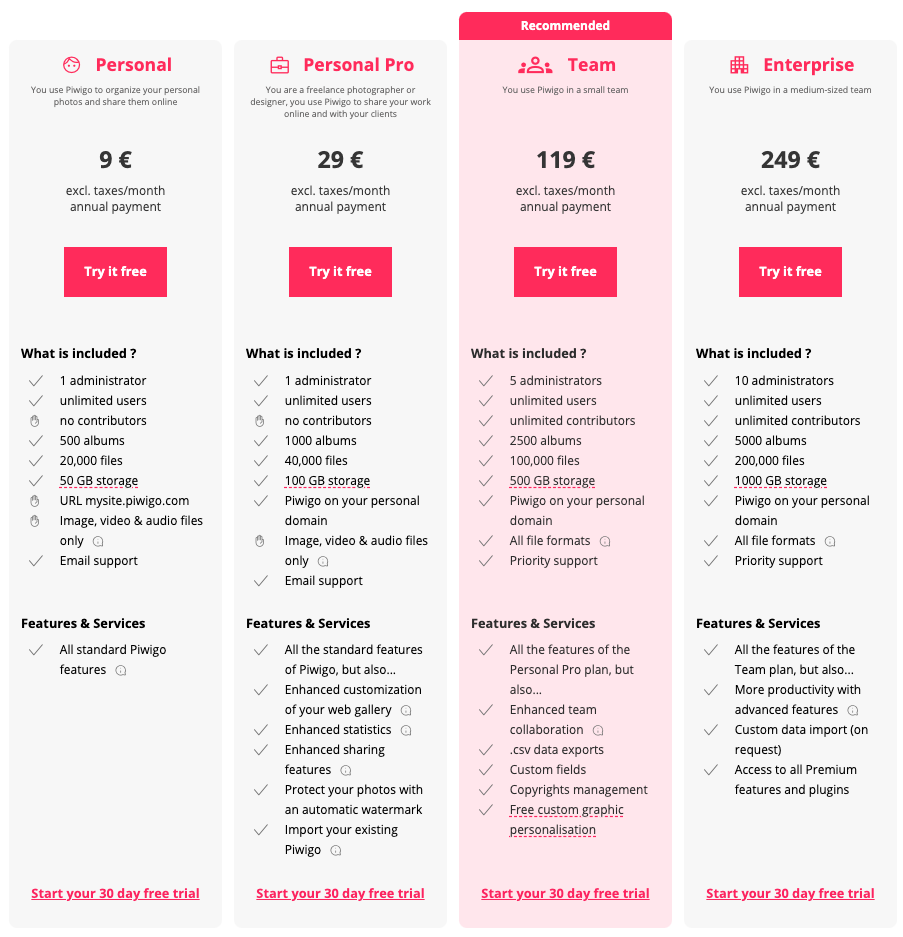 In addition to that, some features and plugins are reserved to certain plans. The choice of features and plugins included or not in each offer was not made arbitrarily: it is based on a detailed analysis of the needs of each customer category.
See features and plugins available in each plan
Last but not least, it is possible to order additional storage space.
For example, a customer for whom the Team offer is suitable, but for whom the 100 GB space included in this plan is not sufficient, can order additional space without switching to the Enterprise offer.
What does this change for existing customers?
Now we come to the point that you are most interested in if you are already a customer.
What does this change for you? Absolutely nothing!
Your Piwigo account remains associated to the offer you have subscribed to.
You are not affected by the new limitations (number of administrators, files, plugins allowed or not…).
Your current plan is no longer available for purchase, but remain valid for you as an existing customer: this is what we call a "Legacy" offer (which means "inherited from the past").
When your subscription expires and you renew your subscription, you have two options:
Renew your subscription and maintain this "Legacy" offer. An increase of 10% will be applied to the initial subscription rate, as we announced by email in September 2022. This increase is simply to implement a catch-up, as we have never increased our prices since the creation of Piwigo.com. Your account will remain exactly the same as it has always been.
Renew your subscription by switching to one of the new plans. Only plans that are compatible with your current use of Piwigo will be available. For example, if you use a plugin reserved for the Enterprise plan, you will not be able to subscribe to any of the lower packages.
You can see below what happens in the Piwigo administration when you renew your subscription and are on a "legacy" plan.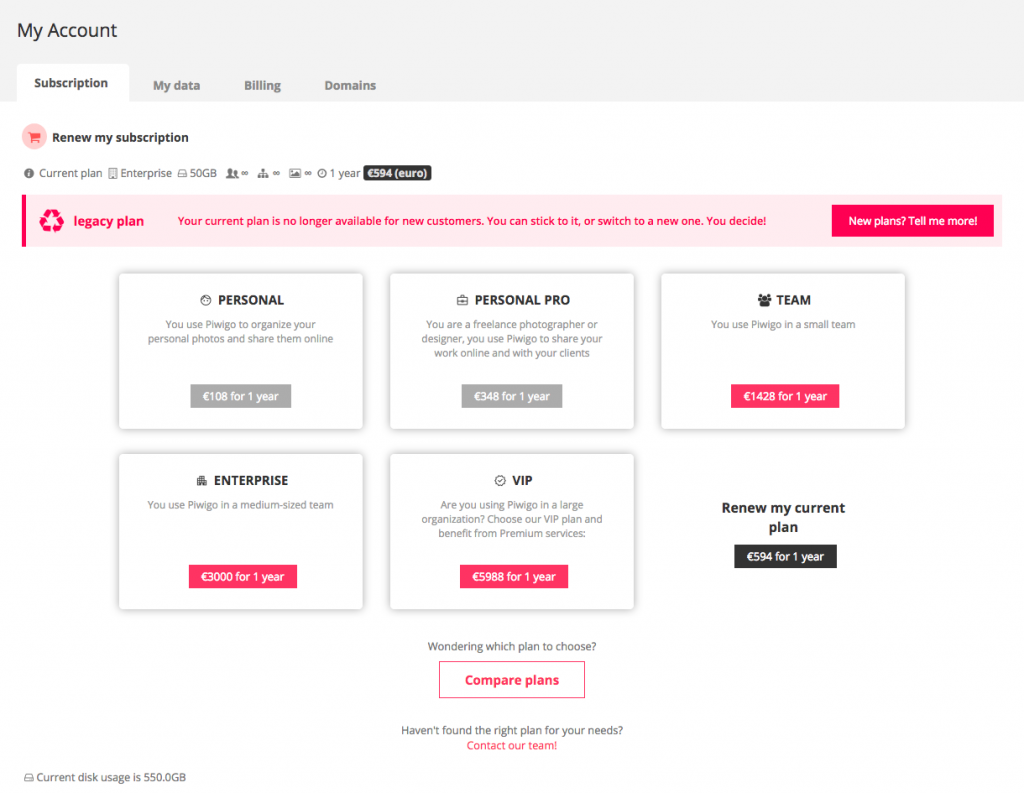 In this case, the company was a customer of an old "50 GB" plan. Due to its use of Piwigo (several administrators), it cannot claim the Personal and Personal Pro plans: it can therefore switch to the Team, Enterprise or VIP plans, or renew on the basis of its old 50 GB plan.
The answers to all your questions
Here are the answers to some questions you may have at this point.
I want to switch to a new plan today: is it possible?
Of course it is! You don't need to wait for your subscription to expire. You don't have to wait for your current subscription to expire. You just need to contact our support team and request to change your plan. We will readjust the remaining subscription time. If you have an individual offer and want to host videos on your Piwigo, maybe this is something you have been waiting for since a long time.
How do I switch to one of the new plans that is unavailable for my account?
To do this, you just need to "clean up" your Piwigo; you may have unused admin accounts, obsolete albums, active plugins that you don't use… Deleting them may be enough to resolve your issue.
In the future, will I need to limit the number of users, admins, plugins or anything else in my account?
Only if you decide to switch on a new plan! If you choose to renew your current offer, you will benefit from the same possibilities with you Piwigo than you always had.
What if I want to increase the amount of storage space available on my existing Enterprise account?
Although we will maintain the legacy offers for existing customers, we will not upgrade them. If you have subscribed to an old 50 GB Enterprise plan, and you need 100 GB, the only solution is to switch to one of the new plans.
I think it's too expensive!
Maybe when you compare our new pricing plan to our old one, you find it too expensive. But it's not the new prices that are too expensive: it's the old ones that were not expensive enough compared to the richness of Piwigo features. If you compare our prices with those of competing business software, you will see that we are still very affordable!
I still think it's too expensive 😉
If you don't want to keep your old subscription plan, and the new offers don't suit you, you always have the option to switch your Piwigo to your own hosting. We only recommend this option to companies and individuals who have the infrastructure and skills to deploy Piwigo and manage their server. We offer to companies a maintenance contract that includes the installation of updates, monitoring of your server and 3 hours of support per year.
How do I know which plugins are available in each plan?
You can find out by going to your Piwigo administration, Plugins menu, Premium Plugins tab, or by visiting this page.
I am still in a trial period: how do I know which plan I should choose?
First of all, if you have opened your trial period on Piwigo.com before the implementation of our new pricing plans, you can benefit from the "legacy" offers, or choose to switch to a new offer.
Then, the new plans available in your account will depend on how much you have used Piwigo during your trial period.
If you have uploaded more than 50GB of files to Piwigo, you will not have access to the Personal plan;
If you have created more than one administrator, you will not have access to the Personal and Persona Pro plans;
If you have activated the Expiry Date plugin, you will not have access to the Personal, Personal Pro, and Team plans;
etc.
You can of course make adjustments to make your account compatible with the plan of your choice.
And if you have any doubts or questions, the easiest way is to contact us: we are here to help you!