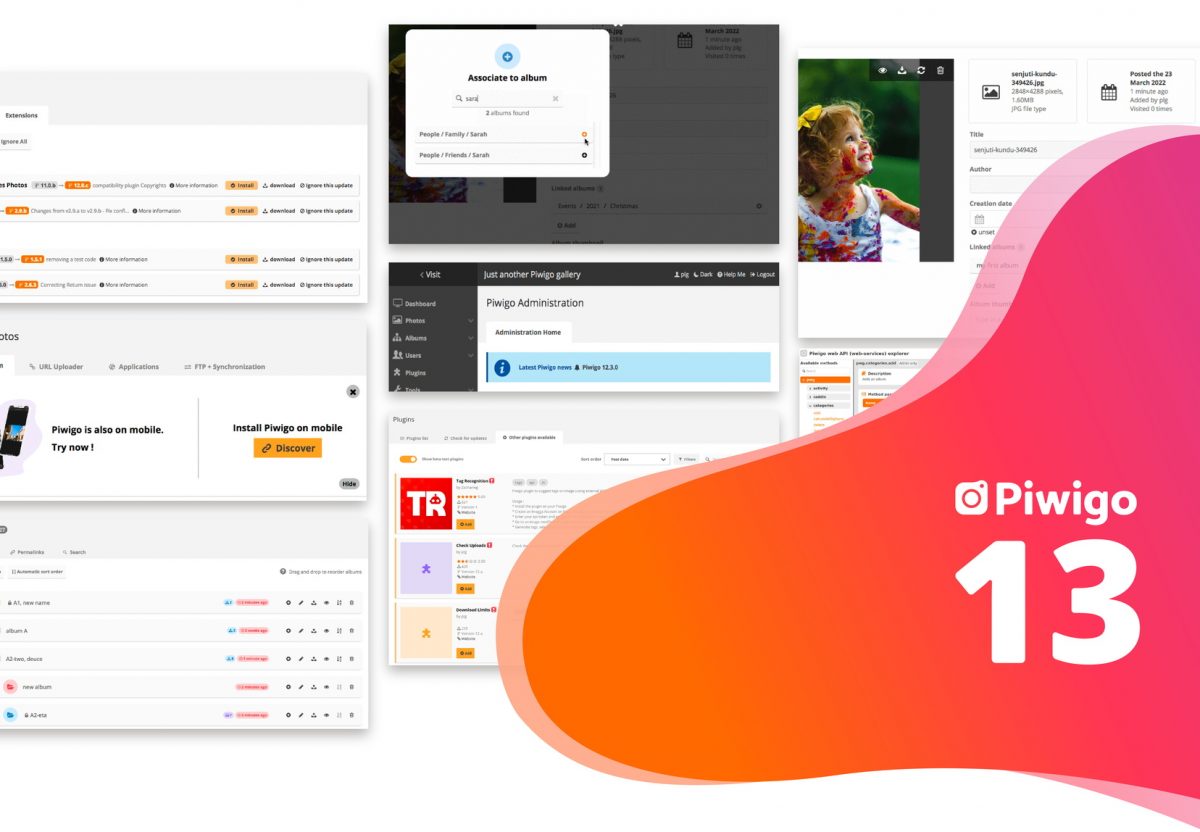 Available for download since October 11th, Piwigo 13 has been recently deployed on all customer accounts hosted on Piwigo.com. Let's take a look at what's new in this release, which focuses on the user experience!
---
This is one of the most awaited new features of this version: we have completely rebuilt the album list in the administration.
Remember: since Piwigo 11, you had two screens in the administration to manage your albums:
The album list, which by default displayed the album list as tiles, and only displayed one level of the tree at a time (by default, the root albums)
The page to move albums, which allowed you to view the heriarchy of your albums and sub-albums, and reorder them by drag and drop.
With Piwigo 13, we merged these two screens to create a new album manager.
This screen offers many features:
It offers a tree view of your albums; parent albums that contain sub-albums are easily found.
You can open and close a tree view by clicking on the down arrow icon.
Labels show for each album the number of files it contains, the number of sub-albums, and the total number of files (including sub-albums).
To rearrange the order in which the albums are displayed, simply select the album you want to move and drag and drop it.
In the same way, by moving the albums in the list, you can move an album inside another album, or move a sub-album to the root.
Of course, from this screen you can also create, edit, or delete your albums.
You can see how it works by watching the animation below.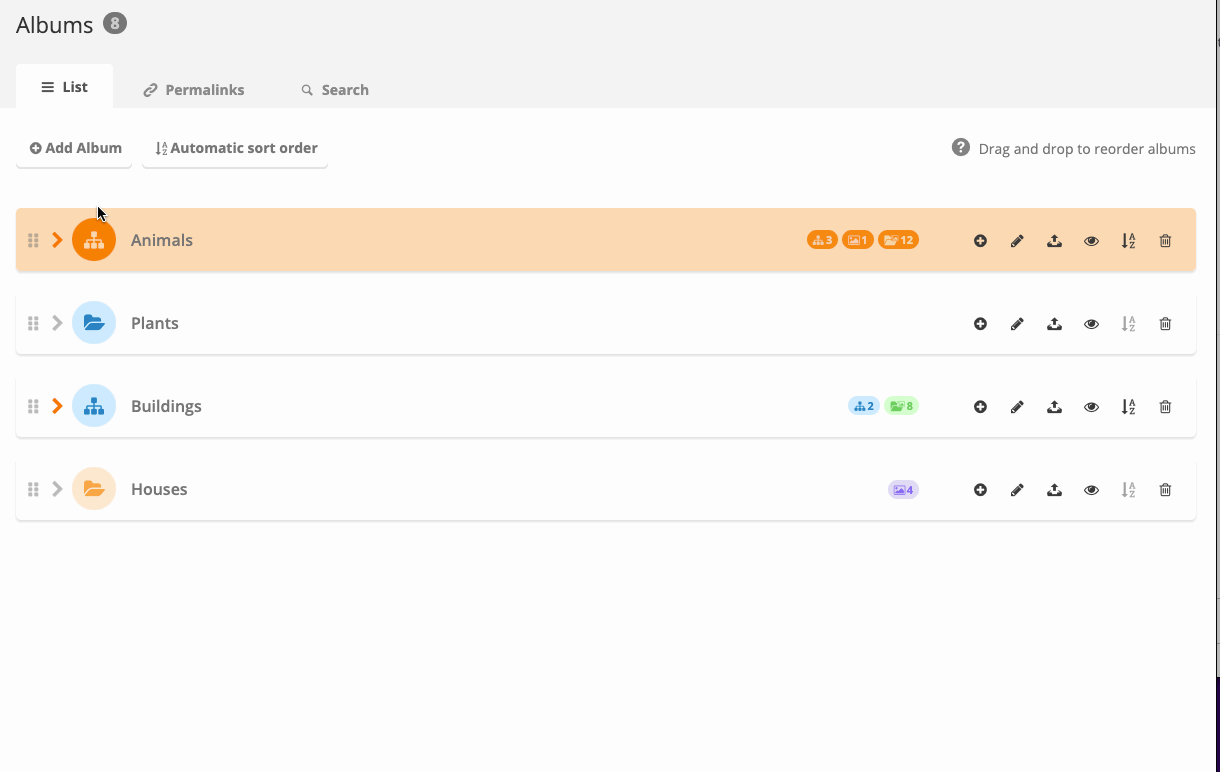 You can also easily rename an album or sub-album at any time from this screen, by clicking on the pencil icon next to an album name.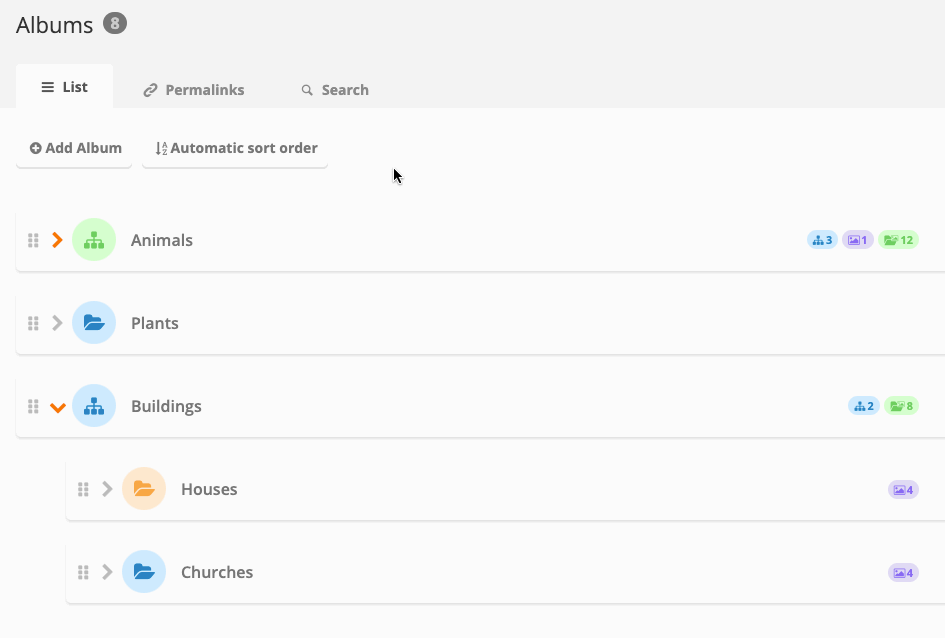 We hope you like this new way of working!
Redesign of the visit history
The search tool in the visit history has a new design.
You can now filter the results according to the type of action (visit or download).
The way the filters work has also been changed. Now you just have to find an item you are interested in in the list (a user, an IP address, or a photo) to add a new filter.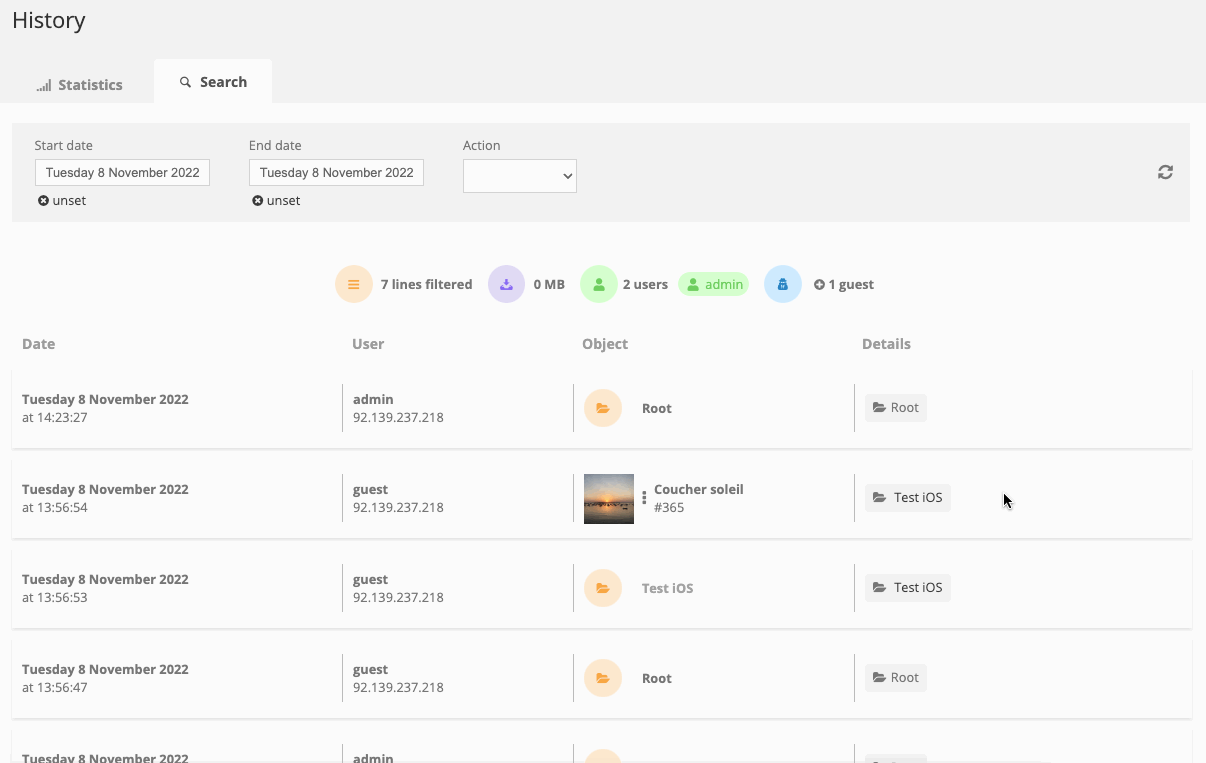 Related albums
Previously, to choose the albums related to a photo from the photo editor, you had to select albums from a drop-down list. This was fine when you had few albums, but for users with hundreds or even thousands of albums, it was difficult to use.
So we've completely redesigned the way linked albums work, as you can see in the example below.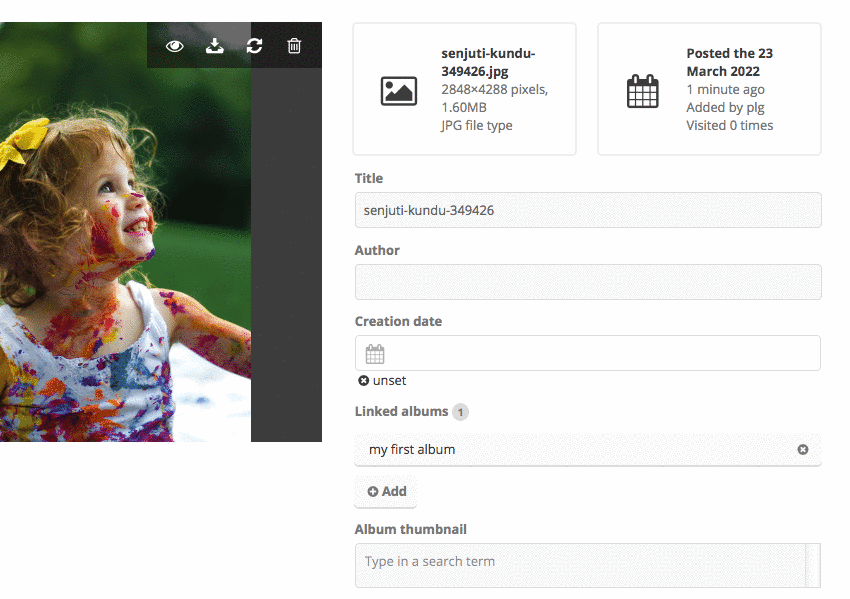 Renaming a tag
When you rename a tag, you now do it in a new window: it is clearer, and easier when the tag to rename is particularly long.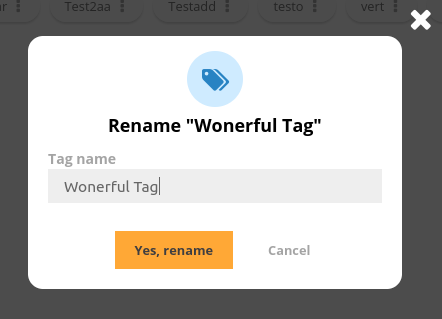 SVG file compatibility
Do you use SVG format for your logos and icons? Good news, since Piwigo 13, these files are displayed correctly in your gallery, if you use the Modus or Bootstrap Darkroom theme!
Display news from Piwigo.org
From the dashboard of Piwigo administration, you will now see the latest news published on the site piwigo.org. So you never miss any news about Piwigo!
New API explorer
Good news for developers using the Piwigo API: the API explorer has been given a facelift! The user interface has been modernized, a dark mode has been added, and the available methods are now organized in categories and can be filtered.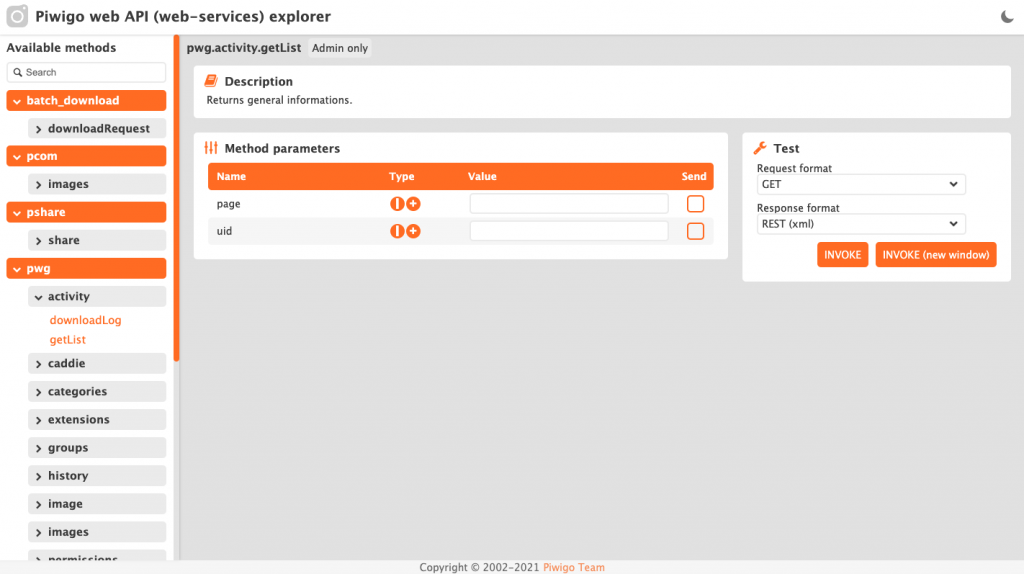 The Piwigo API allows you to connect Piwigo to other tools you use. For example, recently one of our customers used it to connect Piwigo to their Active Directory.
And here it is! What do you think of this new version? Do you have any suggestions for us?