Fire at OVH datacenters: no impact on your Piwigo account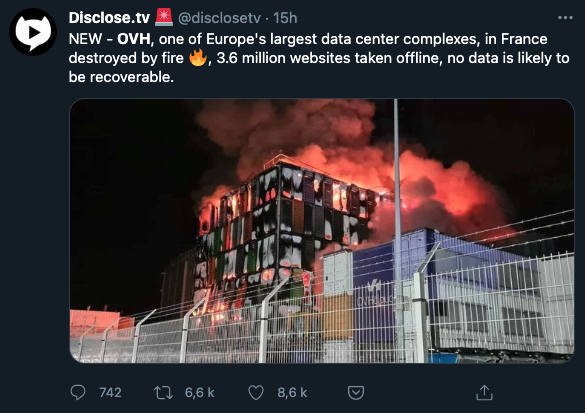 Yesterday, Wednesday 10 March 2021, a fire broke out at the Strasbourg site of the French hosting company OVH. The fire completely destroyed one of the 4 datacenters and partially affected a second one. Fortunately, no human casualties were reported. It seemed important to communicate about the impact of this incident on your data at Piwigo.
How the fire at OVH impacted Piwigo
As you might know, Piwigo services are hosted by the french web hoster OVH. Our customers' data are spread over 3 different geographical locations: Roubaix, Gravelines… and Strasbourg. You don't have to worry: for the moment, we don't report any lost data. But we thought we had to to explain what happened at Piwigo, and why we are – in theory – not seriously impacted by this accident.
One of our main servers, which hosted the piwigo.com website, all new accounts created and more than 2000 Piwigo customer accounts, was hit by the fire in Strasbourg at around 1am.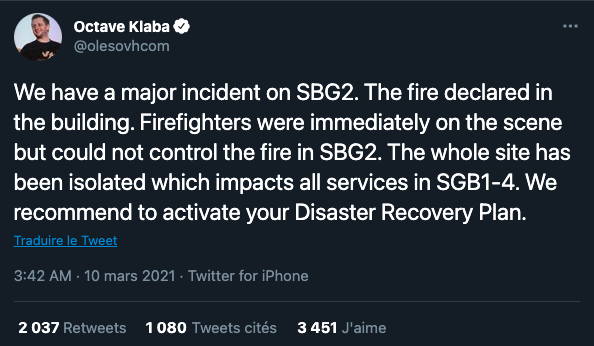 Fortunately, each server operated by Piwigo is replicated on a backup server, physically located on a different geographical site than the main server: this is what prevents data loss in this kind of situation.
So, as soon as we were informed of the situation, we switched the concerned customers to their backup server, and normally, you were able to connect to your Piwigo account yesterday, without noticing anything unusual.
One of our backup servers has also been affected: we are still restoring at the moment. As the volume of data takes a long time to transfer, the situation will not be restored before the end of the week.
What does this mean for you?
Clients who depend on this backup server can work on Piwigo, but they work "without a net". If a new fire were to break out and affect their main server, the changes made would be lost. This is unlikely to happen, of course.
If you want to know more about our security and backup procedures, we invite you to read (again) this blog post, where everything is explained in detail.
To sum it up: more frightened than hurt
We still have some work to do, to restore the lost backup server, and to deal with some side-effects. Moreover, we are not yet 100% sure that no data has been lost.
We therefore invite you to test that everything is working well on your Piwigo, and to contact the support if you notice any anomaly.
This event reminds us that the web is not "magic": to host data in the cloud, you need machines, and these are never 100% safe from a hardware incident. It is therefore important to make sure that the data you care about is well protected in this kind of situation. This is why we have set up our hosting offers with Piwigo.com: not everyone is able to manage their server themselves, with all the necessary security guarantees.
Our thoughts turn to the OVH teams, who are on deck to refurbish the infrastructure, and to all the system administrators and webmasters who have been working hard since yesterday to get their website back!