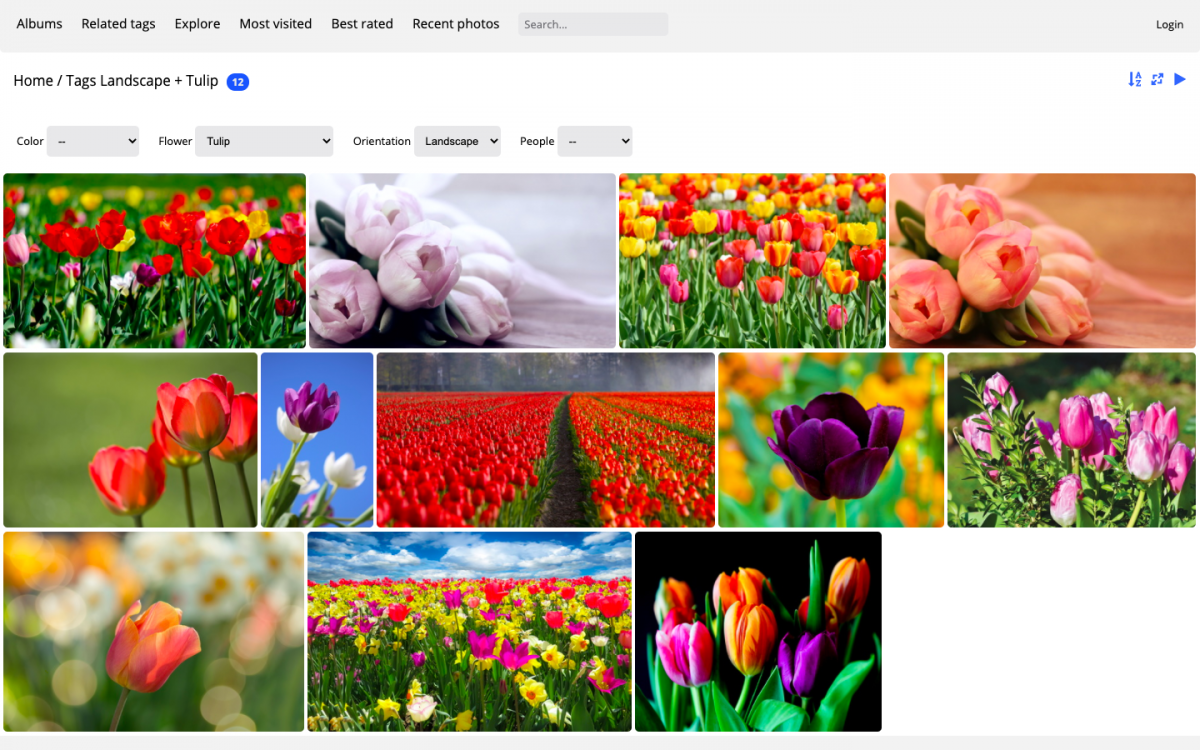 You want to offer your visitors an user friendly interface to navigate through your photo gallery? With the Tag Groups plugin, you can add multiple filters to your Piwigo photo library.
Warning
This plugin is not available to customers who have subscribed to an "Individual" offer on piwigo.com.
Reminder: how tags work with Piwigo
If your Piwigo photo library contains a lot of media, you've probably decided to organize them with tags, or keywords.
Tags allow you to qualify your photos according to your own classification criteria: this can be colors, image formats, places, themes or any other useful information to easily find photos that have something in common.
A photo can have an infinite number of tags, and you can combine tags to refine your search.
The tag search is available from the "Related tags" menu item of your photo library (that you can activate with the "Menu Tags" plugin), or from a tag cloud that can be displayed on a page of your gallery.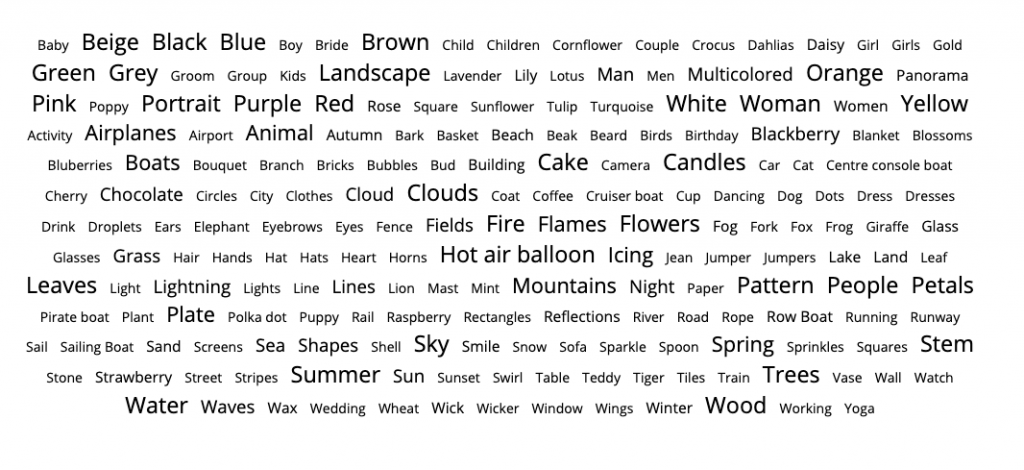 Thus, the tags are complementary to the albums.
Let's take the example of the photo library of the Archeological Museum Archéa.
The photos of this photo library are organized in albums: Exhibitions, Collections… Each album is also organized in sub-albums: in the Exhibitions album, there is one sub-album per exhibition.
But if you're looking for photos that match a finer criterion, that's where the tags will prove themselves useful. You can find in one click all the photos tagged "Middle-Ages", "Necropolis", or "Merovingians", whatever their album.
What if I want all the pictures of Merovingian necropolises?
Don't worry: I just have to combine the two tags "Necropolis", and "Merovingian", as you can see on the example below.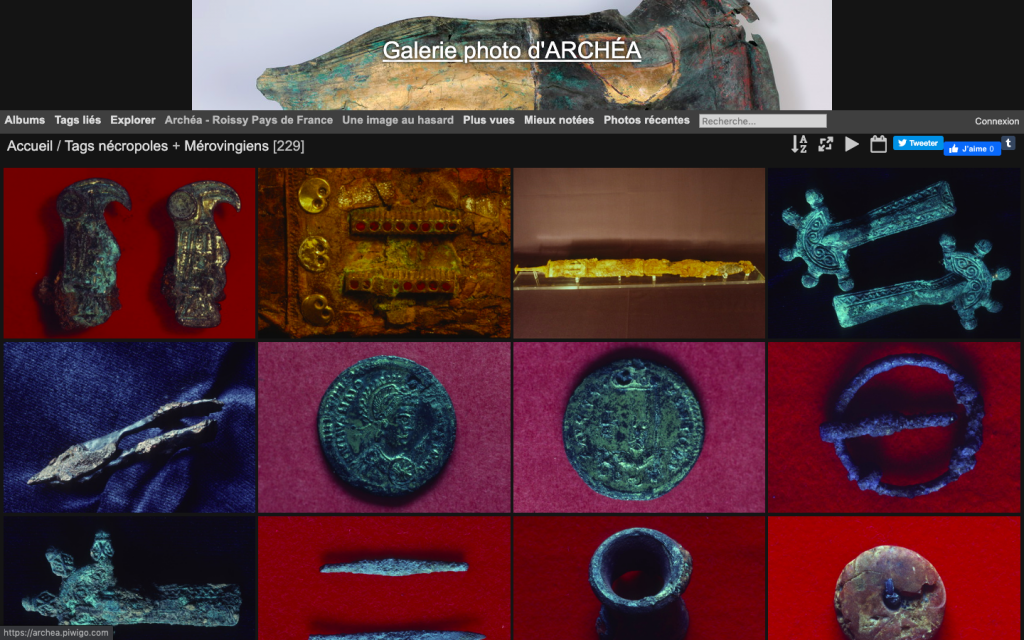 This operation is very simple and convenient, but the tags are all mixed together. 
For an even better organisation, and an easier search, a new plugin is available on your Piwigo photo library.
Set up a filtering search bar with The Tag Groups plugin
This plugin allows you to use tags to set up a filtering search bar on your photo gallery.
How does it work?
You now have the ability to regroup the tags by family, with the new notion of "tag group". 
The tags "blue", "pink", "green" can be associated with a "color" group. To do this, simply add a prefix in the tag name. Thus, by naming a tag "color:blue", you will have the tag "blue" belonging to the "color" group.
You can see below a page that lists the tags of a Piwigo gallery, grouped by tag group.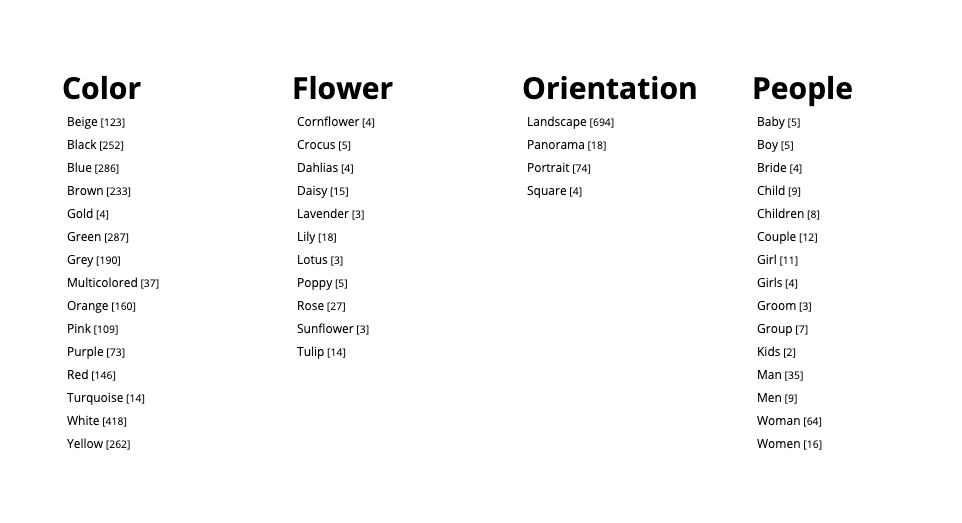 If we go on with the Archéa Museum example, we could imagine that the tags "High Middle Ages", "Classical Middle Ages", "Gallo-Roman Antiquity" and "Merovingian" would be classified in the "Period" group.
And the tags "ceramics", "ornaments", "furniture", "tools", "religious practices" etc. could be classified in the "Objects" group.
We could thus set up in the gallery a search engine with filters by period, and by type of object, with drop-down lists as in the example below.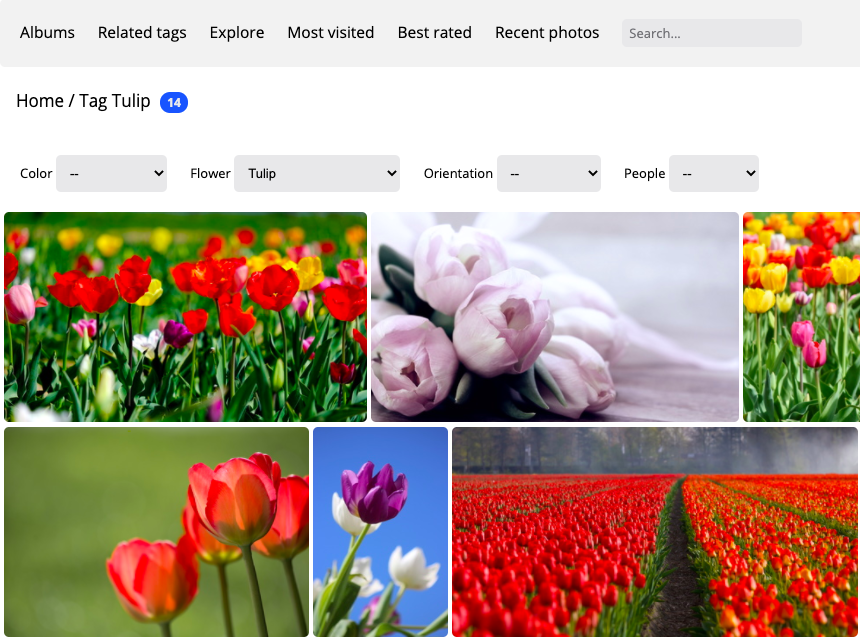 On the above example, (click on the image to enlarge it if necessary), you can see that we first filtered the pictures to show only the "Tulip" type flowers.
You can then refine the selection by color with the "Color" filter. It lists all tags of type "Color", but only those that are present on photos that also have the tag "Tulip" are clickable.
If I select the "Purple" color, the selection only shows me files with the "Tulip" tag AND the "Purple" tag.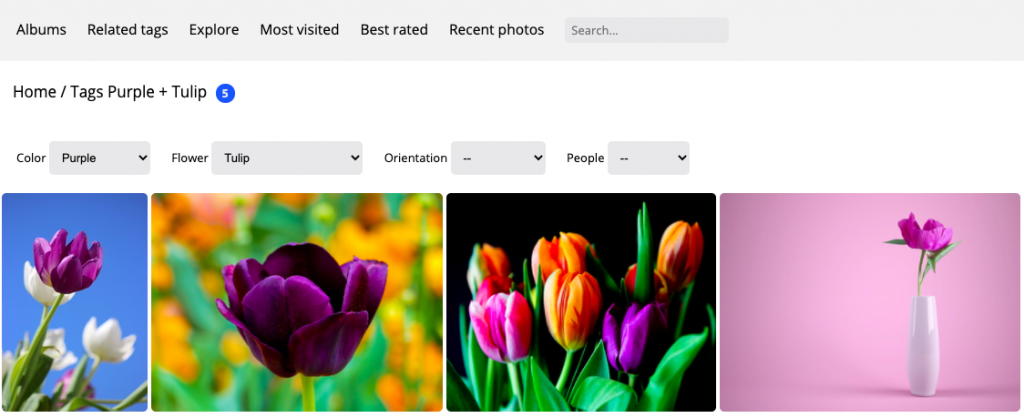 If you wish to test by yourself, you can view a demo by clicking on this link.
We hope you like this new feature!  Would you like to implement it on your Piwigo gallery?
If so, you have two options :
If you host your Piwigo yourself, download the Tag Groups plugin
If you are a customer of a hosting offer with Piwigo.com, please contact support. Indeed, you can't (yet) activate the Tag Groups plugin yourself. Warning! This plugin is only available for customers who subscribed to an Enterprise offer.